Licensed Electrician Clifton NJ | Clifton electrical contractor
Brown Electric ,Your top electrician in Clifton NJ  , have been delivering high quality

electrical services since 1994. From service panel upgrades and knob and tube replacement  to surge protection and electrical wiring, we deliver quality results. We have more than 20 years of experience providing honest, neat, professional and courteous service to our
Clifton   NJ residential and commercial electrical customers. Get in touch with us today and discover how we can help you.
All projects that involve electricity can be extremely dangerous. Tackling these tasks on your own, even if they seem a small do-it-yourself project, can prove to be disastrous. Do not allow yourself to become vulnerable to severe personal injury, extensive property damage, or worse. Leave these electrical services to a professional, licensed, and trusted electrician. Brown Electric is available for emergency electrical services, as well as for the following electrical projects:
Brown Electric offers electrician discounts in Clifton NJ
Your lights are flickering and you just are not sure what the cause is in your Clifton NJ home? Call Brown Electric. Lightening storms have caused a surge in your appliances, electronics, lighting, and you just cannot
get them to come back on. We are here to help you and avoid this from happening in the future. Do your breakers trip often? Do you have to unplug one thing in order to use another? Give Brown Electric a call. We can help! Are you looking for a way to ventilate your attic? We offer a wide range of repair and upgrade services. Here are some electrical services and electrical repair services that we offer, as well as emergency electrical services:
Your Clifton NJ Knob and Tube wiring experts
A common electrical job we perform in Clifton NJ is knob and tube wiring removal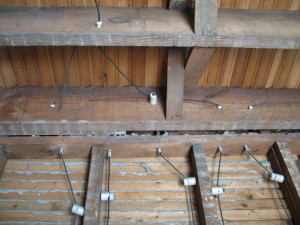 which is
outdated form of wiring used in homes and buildings before 1930 in which the Ceramic knobs were cylindrical and generally nailed directly into the wall studs or floor joists. Most had a circular groove running around their circumference, although some were constructed in two pieces with pass-through grooves on each side of the nail in the middle. A leather washer often cushioned the ceramic, to reduce breakage during installation. electric wires were ran through porcelain tubes where they went through joist and then tied to porcelain knobs.Knob and tube wiring system did not allow  for the life saving ground wire, or metal junction boxes for splices, nor were the hot conductor and neutral ran together. For these and many other reasons most home insurance companies are now refusing to insure homes with knob and tube wiring.
Your "go to" Electrician for Clifton NJ Homes and Business
I've spoken with many homeowners that have attempted to re-wire their own electrical projects at home. Where there are many do-it-yourself projects that can be done safely, electrical re-wiring is very dangerous to attempt if you are not a licensed electrical professional. Let Brown Electric tackle this for you in the most efficient and effective way possible for your Clifton NJ home or business.
Some of the few Clifton NJ electrician service we provide
We also offer a variety of services to ensure that your needs are met, including:
Panel Replacements , 200 amp service upgrades, knob and tube wiring replacement, code violation corrections, Kitchen and bathroom remodels , hot tub wiring, swimming pool bonding and gfci outlets, and much more..